What's New - Check out our latest featured products and more!
Home >
Dead Level™ Trench Drains
Simple. Straight. Stable.
Trench drain installation just got a whole lot easier. Make channel floating, pinching and misalignment a thing of the past. The uniquely engineered Dead Level® system's frame anchored design ties rebar to the structural frame, not the channels, eliminating floating and pinching during the concrete pour. Its solid flanged channel, end cap and frame connections create proper joints and alignment every time.
Tired of struggling to cut trench drain pieces to fit your installation? The Dead Level® system comes in standard 4 ft. sections as well as 1 ft. straight and combination corner/tee sections for flexibility on uneven runs, eliminating the need for cutting in the field. Standard plastic construction covers protect grates and keep trench drains free of debris during construction.
Features
Superior materials
Stability & structural strength
Frame anchored design
Solid connections
Short & Corner/Tee sections
Maximum flow
Grating for diverse commercial applications
Molded construction covers standard
Patent pending
For jobs that require an equipment- or pedestrian-friendly slope to a finished grade for use with brick pavers or concrete, this brickslot drain is the ideal solution. Its sleek look is designed to fade into the pavement and complement the architectural design of the surface while efficiently draining walkways and working areas. It is manufactured to be ADA-compliant and handle loads up to the DIN 19580 Class A classification.
Still not sure? We believe if you see Dead Level®, you'll be convinced it's the best trench drain system on the market.
Contact Me
More Information
Product Brochure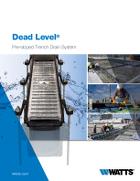 Product Flyer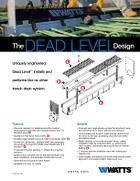 Dead Level Product Design Flyer
Specification Sheet
Polypropylene Dead Level Pre-Sloped Polypropylene Trench Drain System with Polypropylene Frame
Ductile-Iron Dead Level Pre-Sloped Polypropylene Trench Drain System with Ductile Iron Frame
FAQ Sheet